"Bass music is an umbrella term that refers to various styles of music including drum & bas, bassline, dubstep & Uk Garage, among others. The phrase began to be used in response to the blending of sounds between these genres. The key characteristic shared among these genres are an emphasis on basslines, groove & rythm."-Wikepedia.
This week we decided to focus on some UK Bass music for our next Showcase. With the constant evolution of bass music in the UK, this feature focuses on Black Butter's My Nu Leng. Taking the scene by storm, the pair have become recognised for their dark, bassed fueled production which features influences from drum & bas, bassline, dubstep & Uk Garage.Their innovative sound has added another dimension to the UK's bass scene & with that, we spoke to them about their genres influences, festivals, future plans & have even got a cheeky exclusive minimx for your ears too!
About My Nu Leng
My Nu Leng are a Bristol based duo who form a core part in Black Butter Records. Well recognized for their "hard-to-categorise" sound; the pair have unleashed a series of quality releases gaining both strong support & achieving recognition for their unique production skills.
What's great to see is that they don't take music all too seriously as they look to enjoy their time producing, touring & spreading their sound as far as possible. Even their title 'My Nu Leng' is claimed to have started as a joke which then stuck & will continue to do so for the foreseeable future.
Listening to their music, you can clearly hear a variety of different genres have influenced them with bass lines likened to D&B, Dubstep & garage BPM's & high energy throughout.
Following their remix of UK No.1 Klangkarussel, clocking over a million views on YouTube, they have released their 3rd EP with Black Butter records 'Masterplan'. This is a perfect example for their varied sound as 'Masterplan' feat Fox brings about a dubstep make-up with heavy bass & Neuro D&B influences.
'You've been gone' is without a doubt the lightest track on the EP (although it remains bass heavy) with a stronger focus on catchy deep house style vocals combined with rubber/pipe bass melodies & a heavy hitting undertone throughout.
My Nu Leng's unpredictable style has definitely ensured they have pierced their way forward in the music scene, providing forward thinking production which seamlessly combines a large proportion of sounds which have been responsible for the UK's underground scene for the past decade.
Their undoubted support on their latest EP from the likes of Radio 1, 1Xtra, Rinse FM, KissFM and tastemakers including Mistajam, Zane Lowe, Rob Da Bank, Cameo and more, clearly indicates the strength of their new found style & highlights the duo as an exiting team to watch out for.Listen to their excluive minimix here:
TID Showcase: My Nu Leng (exclusive minimix) by Trackitdownuk on Mixcloud
Tracklist:
Jamie XX - All Under One Roof Raving
Pablo Nouvelle - Poison ft.Tulliae
Amine Edge & Dance - Perfect Love (Pt.2)
Woz - Cherry Hill
Dusky - 4T4
Mosca - Clinical Trial
Kidnap Kid - Stronger
CamelPhat - The Act
Dark Sky - Odyssey
Ejeca - Jalek
Wadsworth - Lime & Pink
Philip Bader & David Squillace - 14,000km Away
Beesmunt Soundsystem - Body Shape
Gorgon City - Cycles
My Nu Leng - You've Been Gone
Hannah Wants & Chris Lorenzo - Girls
South Soul Project - The Dark I Feel
We had a chat with Jammo and Tommy to discuss their sound, influences & their experiences so far. Have a read…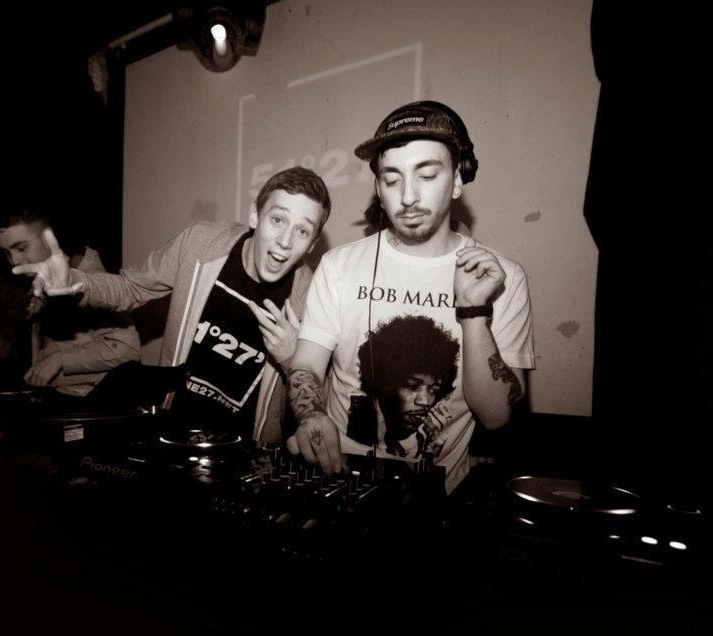 1.Hi guys, 2014 has been a very busy year for you! Whats been your highlights so far?
We are currently finishing off a 4 week tour in the states with Rudimental which has been great. To travel around the world and showcase our music has always been a dream of ours.
2.We've been told Outlook & Dimensions festival are your favourites in terms of curation & location. How was it for you this year & what acts stood out most in your opinion?
It was amazing! Ended up doing a back 2 back with Chris Lorenzo to a really good crowd which was a lot of fun! Unfortunately due to time & having to get to Bestival wasn't able to catch as many other people as would have been ideal, but sets from Andy C, DBridge, Zinc & Hannah Wants were great, plus the boat party with Kahn & Neek from Bristol was an experience to say the least!
3.Your D&B background is definitely captured in your production. What D&B artists have most inspired you & have you thought about creating your own D&B tracks at all?
We have already started writing a few D&B tracks and are hoping to collaborate with some artists too. Producers like Break, Calibre, A.I. And High Contrast really inspired us over the years we were keen vinyl collectors!
4. Since joining Black Butter records, you guys literally haven't stopped. What's been your most memorable gigs to date? Are there any funny stories you can shed light on?
Not so many funny stories that we'd really be able to talk about unfortunately haha!! But our most memorable shows I think have been this year's Snowbombing & Glastonbury, it's only really our first year of experiencing shows to this kind of scale so it's just been really fun as it's all so new, plus touring America with Rudimental has to be up there!!
5.You have been recognised for your versatility in terms of BPM, whilst also for your signature dark & bass fuelled style. Do you think you will stick to your 'Masterplan'(excuse the pun) or do you still feel you want to experiment?
I think it's important for us to keep pushing our sound as far as we can take it and really try to write interesting and exciting music. But the key is to not put pressure on ourselves to write a certain way and just let the creativity flow in the studio!
6. Living in Bristol means your surrounded by lots of different talented producers, DJ's & artists. Who would you recommend we keep an eye out for?
Keep an eye out for Distro, Gage, Caski, Troy Gunner and Rowl!
7.Who would your dream collaboration be with?
The Streets / Mike Skinner
8.If you could choose any location world wide, where would your dream set be?
Hard to say really, I think because we have such a UK sound it's hard to push it to as many places as we'd like, but as the sound grows I'm sure it will happen, at the moment I think Australia & New Zealand would be amazing.
9.Can you shed light on any plans you have for 2014/15?
To release a few more singles and really focus on touring the world as much as possible! We have some exciting plans lined up so we can't wait to spread out sound to as many people as we can.
10. Little but of a curve ball - What's your favourite cheese & why?
Cheddar. We aren't big cheese guys.
How can you not like cheese…?